"Your Paths in the Word"
Enjoy these Bible thoughts as we prepare for our trip. Walk with us in these brief studies.
As you do, mark the passages in your "tour Bible" you'll be taking with you...
Scroll down to see the latest. Check back later this week for more.
____________________________________________________________________________


"

"Day 1-2"

-

Psalm 17:1-5

- A prayer of David.
1 Hear me, LORD, my plea is just; listen to my cry. Hear my prayer— it does not rise from deceitful lips.
2 Let my vindication come from you; may your eyes see what is right.
3 Though you probe my heart, though you examine me at night and test me, you will find that I have
planned no evil; my mouth has not transgressed.
4 Though people tried to bribe me, I have kept myself from the ways of the violent rough what your lips
have commanded. 5

My steps have held to your paths

; my feet have not stumbled.

We're on our way! David says, 'My steps have held closely to Your paths." The Hebrew word for paths literally means 'wheel-tracks'. David is absolutely determined to stay on God's tracks.

The US standard railroad gauge (distance between the rails) is 4 feet, 8.5 inches. That's a really odd number. Why was that gauge used? That's the way they
built them in England, and English expatriates built the US Railroads.



But, why did the English make them that distance? The first rail lines were built by the same people who built the pre-railroad trams, and that's the gauge they used. SO, why did "they" use that gauge? Because the people who built the tramways used the same jigs and tools that they used for building wagons, which used that wheel spacing. Okay! Why did the wagons have that odd wheel spacing? Well, if they tried to use any other spacing, the wagon wheels would break on some of the old, long distance roads in England, because that's the spacing of the wheel ruts. So who built those old rutted roads? Imperial Rome built the first long distance roads in Europe (and England) for their military legions. Those roads have been used ever since. And those ruts in those roads? What formed them? War chariots. Since the chariots were made for Imperial Rome, they were uniform in wheel spacing. Everyone else had to match them for fear of destroying their wagon wheels. The US standard railroad gauge of 4 feet, 8.5 inches is from the original specifications for an Imperial Roman war chariot!
Roman war chariots were made just wide enough to accommodate the back ends of two war horses side-by-side.



Now think of this - when you see a Space Shuttle sitting on its launch pad, there are two big rockets attached to the sides of the main fuel tank. These are solid rocket boosters, or SRBs. SRBs are made by Thiokol at their factory in Utah. The engineers would have preferred to make them a bit fatter, but the SRBs had to be shipped by train from the factory to the launch site. The railroad line from the factory happens to run through tunnels in the mountains. The SRBs had to fit through the tunnels which are slightly wider than the railroad track, and the railroad track, as you now know, is about as wide as two horses' behinds.
So, a major design feature of the world's most advanced transportation system was determined over two thousand years ago by the width of a horse's behind!

Psalm 17:3-5
3 Though you probe my heart, though you examine me at night and test me,
you will find that I have planned no evil; my mouth has not transgressed.
4 Though people tried to bribe me, I have kept myself from the ways of the violent
through what your lips have commanded.
5 My steps have held to your paths; my feet have not stumbled.
In order to stay on God's tracks, you need to watch:

1. Your heart (what you think about)
'Though you probe my heart, though you examine me at night and test me, you will find that I have planned no evil' (v.3a).
2. Your mouth (your words, what you say)
'I have resolved that my mouth will not sin' (v.3c).
3. Your feet (the places that you go)

"My feet have not slipped' (v.5b).
Proverbs 22:5 "In the paths of the wicked are snares and pitfalls, but those who would preserve their life stay far from
them."
Proverbs 4:14 "Don't do as the wicked do, and don't follow the path of evildoers."
Psalm 16:11 "You have made known to me the path of life, you will fill me with joy in your presence, with eternal
pleasures at your right hand."
Throughout our trip to Israel, we will be following in the footsteps of Jesus. He and His men walked the worn paths of Galilee. He blazed His own trail to secluded places where He could fellowship with the Father in prayer. He walked the sands of Judea, the streets of Jerusalem, the steps of the temple, the meadows of Galilee, and on the Sea of Galilee.
Another psalm speaks of the right paths – Psalm 23
"He leads me in the paths of righteousness" (right conduct, right living)
"For His name's sake."
He restores and leads us into right behavior because it brings honor to His name. As a parent experiences dishonor when a child refuses to be obedient, God is dishonored by our tantrums. When we find our way back to Him, it restores honor to us and to Him.
Lord, help me to stay on your paths. May my feet not slip. Guard my thoughts day and night. Help me not to sin against you through anything I say or do.
I learned this chorus as a teenager at church camp in Pennsylvania. I've loved it ever since...



I have decided to follow Jesus; I have decided to follow Jesus;
I have decided to follow Jesus; No turning back, no turning back.
Tho' none go with me, I still will follow, Tho' none go with me I still will follow,



Tho' none go with me, I still will follow; No turning back, no turning back
The cross before me, the world behind me, the cross before me the world behind me.



The cross before me, the world behind me. No turning back, no turning back.
Here's the backstory of that song, and a rendition of it that follows by Elevation Worship. Simply click on the "play" arrow in the center and enjoy. Now might be a good time to pray that song in renewing your determination to follow Him wherever He leads - including His footsteps in Israel!
"Day 3" - Hebrews 12:1
After a relaxing night in our room beside the Mediterranean, our first full touring day
brings us to Caesarea Maritima. We'll sit in the beautiful theater, then walk through

the fortress built by Crusaders. Our Israeli guide, Fares Saba, will explain to us the

significance of this "Pilate Stone" and how it verifies the Bible record. He will explain

Herod's "wow" harbor and his magnificent city Caesarea-by-the sea. We'll also stroll

along the coastline past the hippodrome, scene of extreme sporting events. Paul the

Apostle was familiar with athletics, including the Marathon that originated in Greece.

The Hebrew writer in Hebrews 12:1 pens these words of encouragement...

"Let us run the race that is before us and never give up!"

The word "race" is the Greek "agon" from which we get "agony" and "agonize." Marathoners, tri-athletes and 10K runners understand that! Max Lucado writes "The Christian's race is not a jog but rather a demanding, grueling, sometimes agonizing race. It takes a massive effort to finish strong. Likely you've noticed that many runners don't. We've all noticed a few dropouts alongside the trail. They used to be running. At one time they kept the pace.
But then weariness just sets in. They just "didn't think the run would be this tough!"
Years ago I was running several miles a day. I even entered a few 10K races. Among my first was at a Covered Bridge Festival in Roann, Indiana. The day was beautiful, the course was interesting, and I had not trained sufficiently (read, "I'd never run that far"!) About mile #5 of the 6.2 mile run, I started to think "I'm not going to finish." Shortly after that I heard a voice (nope, not from heaven). It was a local realtor, a recovering cardiac patient who, through running, was in the best shape of his life. He came alongside, saw my distress and said, "You can make it Pastor, you can do it. Keep running!" Then he pulled ahead. I didn't really know him personally, and didn't see him anymore that day, but his word of encouragement spurred me on. I did it! I finished. The power of encouragement.
Jesus' final word on the cross, "tetelestai," is translated "it is finished." More than a sigh of relief, it is a triumphant victory shout AND a powerful encouragement for us. A fuller translation would be "paid in full!" Quite different from when I ran in my early 10K races, Jesus' strongest step was His last step - in other words, His best work was his final work! Runners are encouraged in the final yards of the course to "kick it" across the line - pull out your reserves and push harder. I learned to do that.
Jesus' three major temptations at the beginning of His ministry, and His intense prayer at the end of it in Gethsemane show that it would have been so easy to just to lie down by "the path that was set before Him" , rather than follow HIS path all the way to "Skull Hill." Instead, Jesus endured to the end. He "kicked it" to the finish-line of Calvary. He won the victory for us all! Now that's encouragement!
Jesus could have dropped out, but He didn't. Praise God!
The Apostle Paul captions his life and ministry in terms I'd like to have as an accurate obituary of my own.

"I have finished the race, I have kept the faith. Henceforth there is a crown laid up for me, and not for me only,
but for all those who have loved His appearing!" (1 Timothy 4:7-8)
Paul could have dropped out, but he didn't. Praise God!

Keep the pace my friend, be encouraged today! The race belongs not to the swift starter, not to the speedy sprinter, but to those endure - who finish well! At the end - that's when we get the prize. That's when we hear the Master say
"Well done good and faithful servant. You have been faithful over a few things, I will put you in charge of many
things. Come, enjoy your Master's happiness.' (Matthew 25:21)
Within the last three weeks two friends of mine have finished their course - Olen Miller of Tipton (90 years old) and Jeff Stout (55 years old). Olen didn't have calling hours or a funeral. Jeff had the largest visitation turnout I've ever seen, and I've seen some large ones. I even saw Governor Holcolmb there today. We know not how long our course is, but it doesn't matter. When we stay faithful to Him, we will hear our Master's "Well done" and enjoy His presence in Heaven, as Olen and Jeff are! We could drop out, but I pray we won't. Praise God!
Nothing compares with that promise from Jesus. It's worth everything, and THAT's awesome!!!
OK, so let me "start to meddling" here. If you aren't walking at least a mile a day, preferably two miles to get ready for this tour, start today! You'll be glad then, that you did it now. While you're walking or running, in the physical as well as the spiritual and moral race of life itself,
"Fix your eyes on Jesus, the author and finisher of our faith!"
"Day 4"
Having crossed the Atlantic Ocean, standing beside the fabled Mediterranean Sea, experiencing our boat ride on the Sea of Galilee, and wading into the calm waters of the Jordan River, it's "quite a ride" so far! Since ancient times, in every culture, bodies of water have been of critical importance. They determined the location of major cities, created jobs and provided transportation. Water sources drive turbines to illuminate cities, generate power for manufacturing, business and daily life. They provide life-giving water that we need every day! But some bodies of water are special - not just for how we benefit from them but for what we remember about them!
As we awake in our hotel beside the Sea of Galilee, we remember that Jesus walked by the sea, and on it as well! (For a short time there was even a new "attraction" that some local entrepreneur constructed at the Sea of Galilee - a platform just below the water surface, so people could (for a fee of course) seem to be "walking on water." That's fake, but we know that what we are remembering that Jesus did there, is "the real deal." Jesus initially called His earliest disciples by Galilee, and He headquartered most of his ministry there on it's north shore in Capernaum. His Sermon on the Mount was overlooking the water. His warning that anyone harming a little child should have a large millstone hanged around his neck and be cast into the sea, was spoken near the waters edge! His obedience in baptism at the hands of John, in the river Jordan, affirmed John's message of our cleansing and hope in the waters of obedience.
Even the stark Dead Sea carries its own lesson. Nearly every preacher has
pointed out that the same water flowing south from the mountains, into the
fresh-water Lake Galilee, giving it life, flows 75 miles further south into the
Dead Sea in which nothing living dwells! The Sea of Galilee receives, then
gives. It is teeming with life - it is alive! There is no outlet for the Dead Sea.
While rich in minerals, it supports no plant or animal life - its, well... "Dead"!
The spiritual analogy is striking. Only as we allow ourselves to be life-giving
conduits of His blessing, only as we share what we receive from God do we
flourish. When we learn to give freely, we are like the beautiful, generous,
Sea of Galilee. On the other hand, when we hoard and grasp for ourselves,
we are like the barren Dead Sea and we merit the same description.
The outlet from the Sea of Galilee going south is the lower Jordan River, near Yardenit. The area is green, lush, and beautiful. It is the most popular place for baptism in the Jordan River.
John 4:14 Jesus said...
"Whoever drinks of the water that I will give him shall never thirst. The water that I will
give him will become in him a well of water springing up to eternal life."
Powerful lessons from the water's edge! Be sure to pack your swimsuit and water shoes to float in the Dead Sea. And remember, Jesus is the living water for you!
Come on in - the water's fine! And, those on the Egypt extension will be beside the
famous Nile River! In a different way, the Nile is the life source for all of Egypt!
We'll find out just how...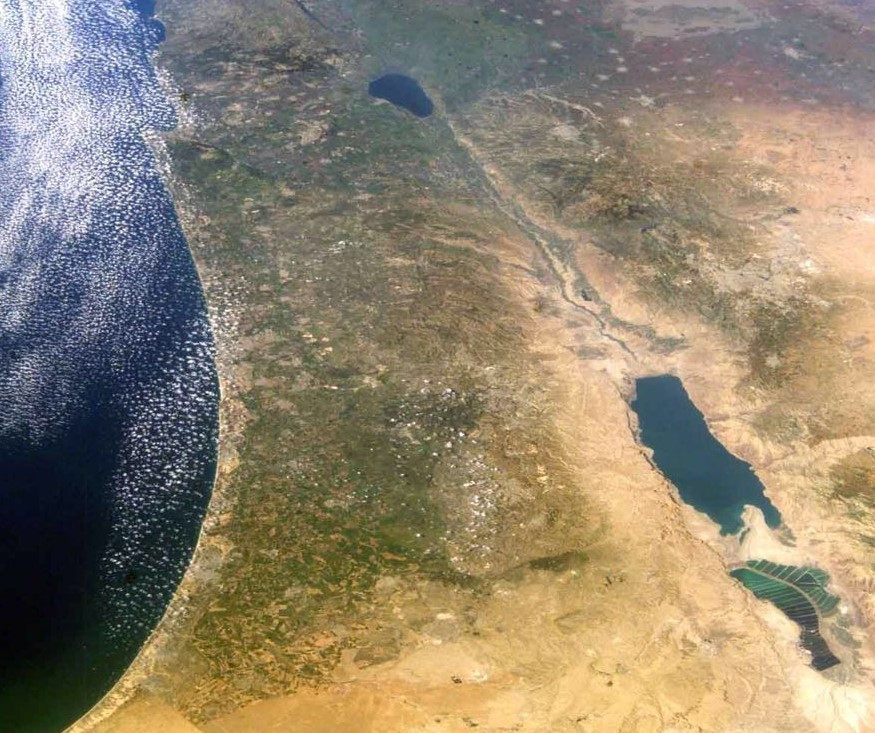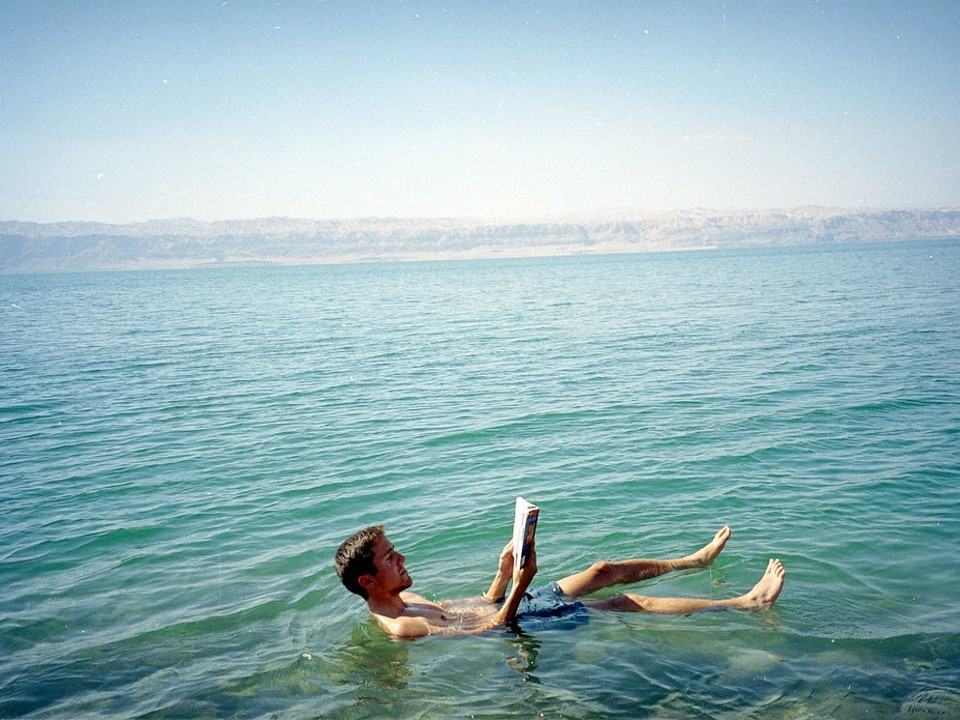 "Day 5"
"King of the Mountain" Remember that game? I sure do - pushing my friends back down off the mound of dirt, the pile of snow, or the the front porch, and being pushed back a bit myself. Whoever managed to stay on the "mountain" while everyone else tried to get him off, was "king of the mountain!" It was one against the world. As a boy, the victory was short-lived, but somehow it was "important."
Near the end of his 3 1/2 year ministry, Jesus took His men to northern Galilee, the mountain region called Caesarea Philippi. The main "attraction" to those who went there was a shrine to worship the Greek fertility god "Pan" (hence the modern name of the region, "Panais.") Not only was Pan worshiped there, but other gods were too. In fact, in 20 BC, Herod built a marble temple there for Roman citizens to worship the Emperor, Augustus Caesar. It seems in that day, in their culture, any "god" would do, and there were certainly plenty to choose from - including a political one!
In our western culture today, pluralism is almost always applauded, and diversity is almost deified! But pluralism is not new. At this pluralistic shrine of Caesarea Philippi where "religion" abounded, it was a good place for Jesus to test his men. He asked them simple questions; "Are there many gods or just one?" "Who do people say the son of man is?" "Who do you say that I am?" Notice the rapid reply of Simon Peter. It is both clear and exclusive. On the home-court of pluralism, Pete makes it clear that there is room for no other, "You are THE Christ, THE Son of the Living God!" (Matthew 16:16) And this not just a report of public opinion, Peter is not simply adding Jesus to the catalog of 'cool' deities. He boldly declares, "Jesus, you are the one-and-only. There is absolutely no other!"
While many today object that this is simply too exclusive, too judgmental, too narrow-minded, too rude - "...there must be other ways...this isn't the only truth...one path is as good as another", Jesus still stakes his claim; "I am the way the truth and the life. No-one comes to the Father except through me" (John 14:6). Panais in 'century one' was a place that wanted to make all religions equal. In striking contrast, Jesus made claims that are totally exclusive. By His claims to be "God", Jesus pushes aside all other potential candidates. Today, when every religion is considered "equal", Jesus and His claims remain the same. He is the true "King of the Mountain" and of the valleys of your life. As you make Him Lord and trust Him, He will direct "your paths!" In Him the victory isn't passing or short-lived, it's forever!
This evening, with our youth band and students I joined in singing with them,
"Who breaks the power of sin and darkness, Whose love is mighty and so much stronger?
The King of Glory, the King above all kings
Who shakes the whole earth with holy thunder, and leaves us breathless in awe and wonder?
The King of Glory, the King above all kings
This is amazing grace, this is unfailing love, that You would take my place, that You would bear my cross.
You laid down Your life that I would be set free! Oh, Jesus, I sing for all that You've done for me.
Who brings our chaos back into order? Who makes the orphan a son and daughter?
The King of Glory, the King of Glory.
Who rules the nations with truth and justice, shines like the sun in all of its brilliance?
The King of Glory, the King above all kings!"


While at Caesarea Philippi, we'll also learn several reasons why Jesus would have taken his men to this cool, beautiful garden spot - probably more than once. [One clue is that in this area, the northeastern source of the Jordan bursts through rocky soil from Mt. Hermon and flows into the upper Jordan valley.]
The rocky cliff of Caesarea Philippi still echoes Peter's inspired reply - his good confession of the great Savior, the King of Kings! Throughout the Galilee region we will see many wonderful things, but this cool, quiet spot is one of my favorites - it just may become yours too. Writing this devotional, visiting this place, it's MY opportunity to declare
"There is none like You, no one else can touch my heart like you do. I can search for all eternity Lord, and find,
there is none like You."
"Day 6"
"O little town of Bethlehem, how still we see thee lie. Beneath thy deep and dreamless sleep, the silent stars go by. Yet in thy dark streets shineth, the everlasting light. The hopes and fears of all the years, are met in thee tonight!"
We'll see when we get there that the Bethlehem streets aren't as still as they once were. Population and commerce have risen and fallen over the decades. Unfortunately it has been falling again in recent years - particularly the Christian population.
But whether the population grows or declines, whether there is much commerce or minimal traffic, the message of Bethlehem is as precious for us now as it was for believers in the first century, "a Savior is born, who is Christ the Lord." Unnamed shepherds hurried into town "to see this wondrous thing which has come to pass." We too will journey to Bethlehem. We'll see the same rocky shepherds fields, we may see a shepherd and perhaps a few sheep. We'll visit the most likely place where lowly outcasts were given the first birth announcement on that spectacular night.
Yes, in just a few days, we'll be in Bethlehem, but first our hearts will break as we travel there. Due to past terrorist incidents and homicide bombings, Israel had to do something drastic to protect its citizens. Bethlehem is a Palestinian village, overseen by the Palestinian government. The construction of Israel's security fence put an immediate and dramatic end to the Palestinian campaign of suicide bombing. By 2009, only 15 Israelis were killed by Palestinian terrorism, compared with 452 murdered in 2002, the year before construction began. At the height of terrorist activity
in 2000-2003, Israel built a "border wall" that separates Bethlehem from
Jerusalem. It stopped those devastating incidents completely! Previously
anyone who wanted to harm Israeli citizens could travel seamlessly into
the heartland and take innocent lives.There was no protection or security.
Now we go into Bethlehem through that security fence with no problem. It
causes inconvenience for citizens of Bethlehem and breaks our hearts to
see the city divided, but the security barrier has saved untold hundreds of
of innocent Israeli citizens. Both in Jerusalem and Bethlehem we are safe
and secure, thanks to the border wall. Once we are in Bethlehem we drive
to the birthplace of Jesus and to the shepherd's fields. There we will sing
carols. We'll remember that "Beit-Lechem" means "house of bread," and
the one-and-only Son of God is OUR living Bread. In the first century AD, the influx of people for the Roman census filled every guest room and sleeping space, except for the stable (most likely, in a cave).
For the rest of our lives after visiting Bethlehem, your celebration of the Savior's incarnation will be enhanced by the sights and scents of "where it all happened." Our world may re-construct and re-market CHRISTmas, but we know the power-truth of it's core will never change! And of course the greatest Gift of all was the centerpiece, wrapped in swaddling bands. The cry of
a newborn broke the relative stillness of the stable. As Joseph and Mary held the precious Jesus, they embraced not only their Son but their Creator and Savior! The hopes and fears of all the years came together as God entered the world. Profoundly so,
"The word became flesh and dwelt among us. We beheld His glory...the only-begotten of the Father, full of grace and truth!"
No matter how secularized and materialistic our Christmases become, the power-truth/the core will never change! The greatest Christmas Gift ever was the centerpiece; wrapped in swaddling cloths and lying in a manger. In years to come, the scenes, the streets, the celebrations will come to life in 3-D, high-def for us. Our Christmas memories will transport us instantly back to the village. So..."Come let us go now, even to Bethlehem and see this thing which has come to pass, which the Lord has made known to us." Welcome to Bethlehem! You'll be glad you came.
"Come let us go now, even to Bethlehem and see..."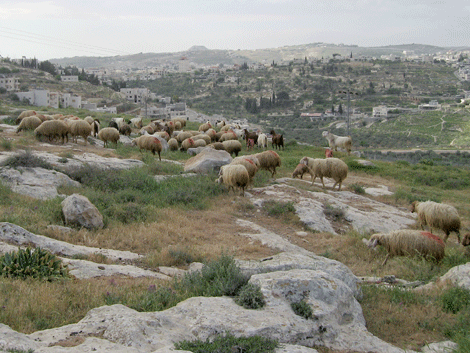 "Day 10"
Sometimes referred to as a "modern-day Pharaoh"by supporters and detractors alike, Egypt's former President Hosni Mubarak, (ousted in the 2011 uprising) just died at 91. He fully endorsed the peace treaty with Israel that was signed by his predecessor. "Throughout his rule, he was a stalwart U.S. ally, a bulwark against Islamic militancy and guardian of Egypt's peace with Israel" (Associated Press). Mr Mubarak has been out of the picture since his overthrow in 2011 during the "Arab Spring". His passing this past week will not affect our security while we are there. We will be fascinated by Egypt!
Protected on all sides by natural barriers and blessed by the bounty of the Nile River, Egypt was one of the earliest civilizations - nationwide dynasties date as early as 3,300 B.C.! The history of governments begins here, where a settled government was established earlier than any other country. A king and princes are mentioned when Abram first visited there. The title "Pharaoh" means "the great house". Abram's visit (Genesis 12:10-20) was during a time of Egyptian prosperity. Joseph was sold into Egypt by his brothers about 1,900 BC. His family came to escape famine about 25 years later. God liberated His people to bring them to the Promised Land (Israel) through the miracles leading up to the Exodus in 1,445. Moses led them out to Mount Sinai where they received the Old Testament Law. Later, Israel occasionally sought alliances with other world powers - including Egypt. The prophets of God warned against that. With the rise of the Roman Empire, Egypt's dominant world-power status faded forever.
The great pyramid is the oldest architectural monument in existence (according to Lepsius).
Egyptian religion degenerated into the worship of cats, dogs, beetles, rivers, trees and hills.
The ten plagues in Exodus 8 were each against one of the major Egyptian gods from whom
Israel was being weaned. Water (Hapi - god of the Nile), Frogs (Heka a statue with a frog's
head), Lice from the dust of the earth - Chemi (god of the Nile river basin - their source of
life), Flies (from the air - Shu, son of Ra, the sun god), Murrain (disease on the cattle - they
worshiped oxen), Boils from ashes sprinkled to heaven (Neit - "queen of highest heaven),
Hail, thunder & lightning on man, beast, plants & trees - worship of man including Pharaoh),
Locusts eating every tree - Egypt was the "land of the sycamore" - like Indiana), Darkness -
Ra - their chief god (god of the sun), Death of firstborn of man and beast (Egypt believed in the afterlife - ala the pyramids).
We are in good company visiting Egypt. Mary and Joseph took Jesus there to escape the treachery of Herod. They stayed there until the coast was clear. Matthew 2:15 points out, this fulfilled the ancient prophecy, "Out of Egypt I have called my Son."

Egypt was a world power, wealth beyond imagination at the hands of the Pharaohs, yet they were disciplined by God with seven years of famine. However, God provided a wise counselor, a deliverer - one of God's people - to deliver them. When Joseph's brothers sold him into slavery they had no idea how God was going to bring that for HIS glory and the deliverance of HIS people! Indeed, as Joseph had the faith and perspective to say, "You intended to harm me, but God intended it for good to accomplish what is now being done, the saving of many lives." (Genesis 50:20). I do love how Max Lucado puts it,
"In God's hands, intended evil becomes eventual good."
Let this transforming truth speak into your life, your situation, your struggle, your uncertainties. God is faithful! Always!
The unfolding of His will may not always be clear, but it is always best.
"Trust in the Lord with all your heart and do not lean on your own understanding.
In all your ways acknowledge Him, and He WILL direct your paths." (Proverbs 3:6).
Remember, God has has provided a Deliverer - one of God's own People - to deliver us too.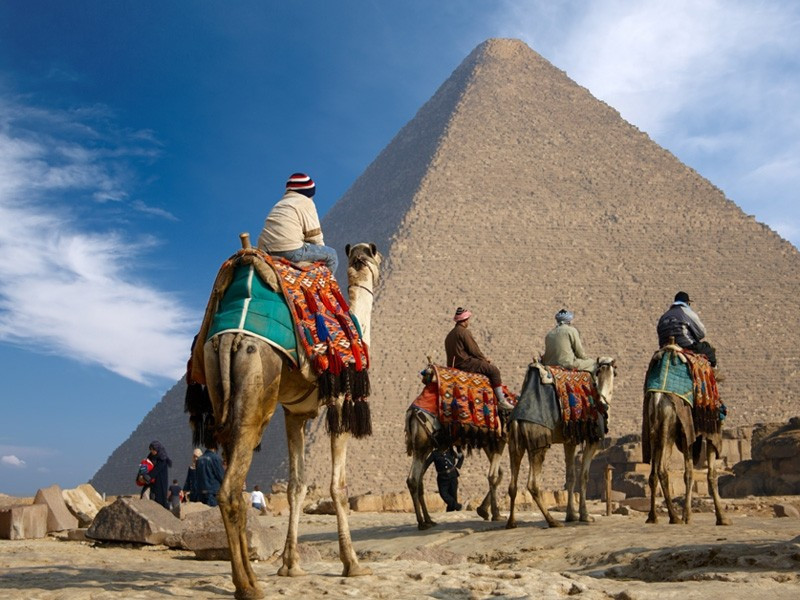 "Day 8"
Looking from the plaza is a splendid view of the ancient City of David, surrounding hills, and the valley below, Gehenna! On a very clear day you can see the distant mountains of Moab, in neighboring country of Jordan. One of the first 'tourists' to visit the Holy Land was a man whose diary of that challenging journey is a treasure to scholars & archaeologists alike . "The Pilgrim of Bordeaux" made an extensive tour when there were no tour guides - in AD 333! One of his entries says "As you climb Mount Zion from the Pool of Siloam you come to the place where the house of Caiphas once stood."
Since ancient times, various church buildings have marked the site. (That's the case with many of these special places. While it seems like a hindrance to our "experience", these buildings are in fact a blessing. They have stood as markers throughout history with caretakers protecting the sites.) At this site, a succession of buildings had fallen into ruin, with others being destroyed or damaged in ancient battles. The present one was built in 1931 and was extensively renovated 23 years ago. Caiphas' house is where Jesus was held prisoner on the long night of His betrayal. It is moving to be in the cave jail rooms (under where the house stood) and remember that our Savior might have been scourged, shed His blood and been held
captive right here! Outside are 2,000 year old stone steps where Jesus would have been dragged up to Caiphas' house for his trial after Judas betrayed Him on that fateful night.
The "church" marks 'Caiphas' house, where Jesus was imprisoned, and where Peter denied His Lord.
On that third denial, Pete heard the sound of the rooster crowing, and remembered what Jesus had
said - that he would deny Jesus three times before the rooster crowed. He did, and it did. He went out
and "wept bitterly". In fact, I have too, when I have personally failed Him. Outside are 2,000 year old
stone steps that Jesus would have been dragged on up to Caiphas house after Judas' betrayal on that
fateful night.
On my first trip to Israel 30 years ago, I wondered what the name of that place meant. It's called "Peter
in Gallicantu", or Caiphas' house. My question was "What does 'gallicantu' mean'? Our tour guide (and two respected Bible College professor hosts) didn't have an answer. Years later, my own research revealed that "gallicantu" means "cock crowing." [Thank you Google!] As we walk toward the building from the parking area, notice the brass rooster up on the cupola. Inside the building are three statues worth seeing. Look for them and consider, which is you?
On the left side - Peter's denial: "I do not know the man." (Luke 22:57).
In the center - Peter's repentance: "He went out and wept bitterly." (Luke 22:62).
On the right - Peter's reconciliation: "Lord you know everything. You know that I love you." (John 21:17)
Our trip provides many wonderful places and opportunities to come before Him in worship, self- examination and renewal, including this one. I'm praying you have a blessed journey with us. It's more than just learning facts, and visiting places, it's allowing yourself to be drawn into the event, the moment and the place.
Ironically, this is also the likely place where Peter and John were later imprisoned for preaching the gospel of Jesus Christ! "And now", as Paul Harvey would say "you know the rest of the story!"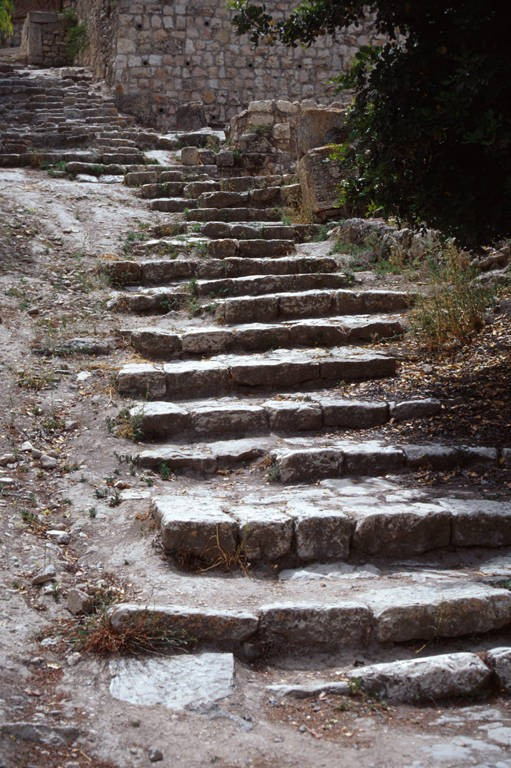 "Day 9"
[Luke 19]
"Is he here yet? Is he here yet?" For centuries that eager question was on the lips of every child of Israel, wondering about every new baby boy. The promises of the prophets had been their crimson thread of hope, their dream of redemption. They knew the Messiah WOULD come, they knew a Redeemer WOULD deliver them. And now, as he grew up, this Rabbi from backwoods Nazareth seemed to be "the One". On a rising tide of popularity, people clamored to see Him as He entered Jericho. An eager, leading citizen of means in Jericho wanted to see him. As we have heard, Zacchaeus was short - "a wee little man was he."
So, desperate situations call for desperate measures...Zach climbed up in a sycamore tree...and (you know the song) "as the Savior passed that way, He looked up in the tree and He said, Zacchaeus, you come down, for I'm going to YOUR house today!" Yes, it was unbelievable - this rich guy climbing up a tree like a schoolboy, and even more unbelievable, this "holy man" speaking to this hated man. Most unbelievable though was Jesus extending the honor of visiting and dining in Zacchaeus' house, with all of Zacchaeus' 'friends' (these are his despised collaborators in the exorbitant, pocket-lining tax scheme of Rome.)
On Day 9 we were scheduled to be there - in Jericho. With steps being taken by the Israeli government, it looks like we won't be going to Jericho, and we won't stop by an ancient Sycamore, "The Zaccheus Tree." I's not that old, but it is old, and it does help us visualize the real tree, in the real town, holding a real rich guy, who became a real Christ-follower that very day!

1. Like Zacchaeus, we are also sinful and needy
"The Pharisee stood by himself and prayed: 'God, I thank you that I am not like other people
- robbers, evildoers, adulterers - or even like this tax collector" (Luke 18:11).
2. Like Zaccheus, we want to see what is happening around us
We check social media to catch up on what we've missed. We slow down and "rubber-neck" to see what happened. People were flocking around Jesus, and, like us, Zacchaeus wanted a look at what was going on. We tend to look high, low and everywhere else for every secret to life we may be afraid of missing. We can figuratively spend our days in trees.
But there is no need for extraordinary measures to find the truth. It's written for us on every page of Scripture. On our tour we'll use the Scriptures as our guidebook. We'll walk in Jesus' footsteps. We find our truth in Him. I'm sure the townspeople were jeering at Zacchaeus as he climbed. They really didn't want this man interrupting their chance to see Jesus. After all, Jesus had come

to save them from people like Zacchaeus., hadn't he? But wait, Jesus spots Zacchaeus up a tree, and (Luke 19:5-6)

"...when Jesus reached the spot, He looked up and said to him, 'Zacchaeus, come down immediately.
I must stay at your house today.' So he came down at once and welcomed Him gladly."
3. Like Zaccheus, we can be declared innocent
Did you know, that's the meaning of Zacchaus' name, "innocent, pure"? Of course he didn't live up it. One author said, "It was no secret that his wealth was gained on the backs of his neighbors and countrymen." But this was the day of new life for the tax man. He became a sincere, strong and serious follower of Jesus and it transformed his life! Jesus made him pure, for sure.
"Even tax collectors came to be baptized. 'Teacher,' they asked, 'what should we do?'
'Don't collect any more than you are required to,' he told them" (Luke 3:12-13).
4. Like Zaccheus, our new life is found in Jesus
One Bible teacher said of Jesus, "His presence alone and his love for us will lead us to do things we never thought we could do: even admitting where we have been wrong and making things right." Like Zacchaeus, Jesus must visit "our house" today. He already knows who we are and what shape our house is in. He wants to be there anyway. He can make the difference!
T
This video helps us to see what we WOULD have seen.
Still we can imagine what it would have been like. So,
Why don't we remove whatever may hinder us from
seeing Him as the Messiah, our Redeemer and Lord.
Like Zaccheus, let us all open the home of our hearts
and welcome Jesus gladly!