Daniel Carmel, owner of the "Worship Boats", casts a net on the Sea of Galilee, just as Peter, Andrew, James or John would have done, 2,000 years ago! He didn't catch anything on the first try either!
Bible events happened with real people in real time. On our Bible Lands tours we stand in places where Jesus walked, prayed, died and rose again. In Israel we pray quietly in the Garden of Gethsemane, sail the Sea of Galilee and read the Beatitudes where Jesus taught the Serrmon on the Mount. On our last tour, thirteen were baptized in the Jordan River and several couples renewed wedding vows in Cana of Galilee - where Jesus worked His first miracle at a wedding. Pastor Hani of the Cana Church prayed over the couples!
On our "Footsteps of Paul" tour next April we'll be where Titus led, John wrote and Paul preached. We'll visit the cities where he planted churches in Asia Minor and Europe. We'll explore Athens - cradle of Democracy including the Parthenon and Mars Hill. We will stroll through Corinth, sail to Mykonos, Crete, Patmos and Santorini and visit the "Rome of the East" (Ephesus).
Each of these trips is a well-planned, active, fun, spiritual pilgrimage. The Bible is our guidebook throughout.
Next spring is a great time to visit Greece and the Greek Isles and now is the time to enroll. Besides our "Early-bird" discounts, Travel there is easier now! Greece has dropped ALL Covid-19 restrictions, testing and masking requirements, returning travel there to a pre-covid experience. Several Imagine Tours and Travel groups right now are enjoying Israel AND Greece without hindrance or problems. June 15-25 was David's twelfth trip to Israel. April of 2023 will be his seventh trip to Greece. Compare tours, the experience of your host, airfare from the midwest, high-quality hotels, air taxes, fees, tips and other extras, you'll see the value. These are inclusive, fun "field trips" for believers. Come with us! You will love it!!
Check out what we include;
- 1st-Class/Superior rooms reserved for you
- delicious breakfasts and dinners daily
- worshipping in unforgettable settings
- airfare from the Midwest (Chicago Ohare)
- your tips/gratuities are included throughout

- an amazing Greek guide (chosen by us)
- your suitcase is portered to your room & back
For our Greece brochure click here then type in

the code "StokesG23", click on "trip brochure"
to simply read it or print it.
You can sign up easily at Registernow,ittworld.
David Pera at ITT World 863-709-9208
David Pera email david@ittworld.com

If you'd just like to read about our "Israel & More" tour in June 2022...
Our 11-

day "

Israel and More"

tour included

the sites in

Israel that you've read

about in your Bible, plus the
world-class

Passion

Pla

y in

Oberammegau, Bavaria.
Click here or on

Israel Videos

f

or the fascinating story
about the play and so

much more in the other videos
there. 28 of us enjoyed this pilgrimage

June 15-25.
OUR FUN 2020 GROUP AFTER-DINNER IN JERUSALEM

Imagine walking in the Footsteps of
Paul as the dynamic "Apostle to the
Gentiles" spreads the gospel across
the Roman Empire. At Mars Hill we
we

'

ll read his powerful sermon to the
council of Greek leaders. At Philippi
we visit the very spot where Lydia, a
successful business leader, became
the first Christian convert in Europe

.


We'll visit extraordinary ruins at Ephesus where Paul invested his longest ministry. We'll sail to Crete where Paul left Titus to
set the church in order and to evangelize
the island. We'll stand inside the cave on Patmos where John lived in exile & wrote the final book of the Bible. Join us for a beautiful experience, perhaps your trip of a lifetime! The Bible will be our guidebook all along the the way. Simply call, text or email us now. You can easily enroll by clicking here then entering tour code "stokesG23"
- David

&

Marilyn
_________________________
One of the most popular tourist
nations in the world is Greece.
It is the "Cradle of Democracy"
and was the launching pad for
the gospel to reach into Europe.
There is so much to experience
in this beautiful country! Our complete land tour - in the "Footsteps of Paul" highlights the cities where his team established the church, from Philippi in the north to Corinth in the south, featuring Athens of course. We include all the sites you want to see on the mainland, plus a three-night Greek Isles cruise. We'll visit Mykonos, Crete, Ephesus, Patmos, Santorini and more.

Our "Footsteps of Paul" tour is April 16-27, 2023. Don't miss this tour. To reserve your space, it is best to enroll soon

!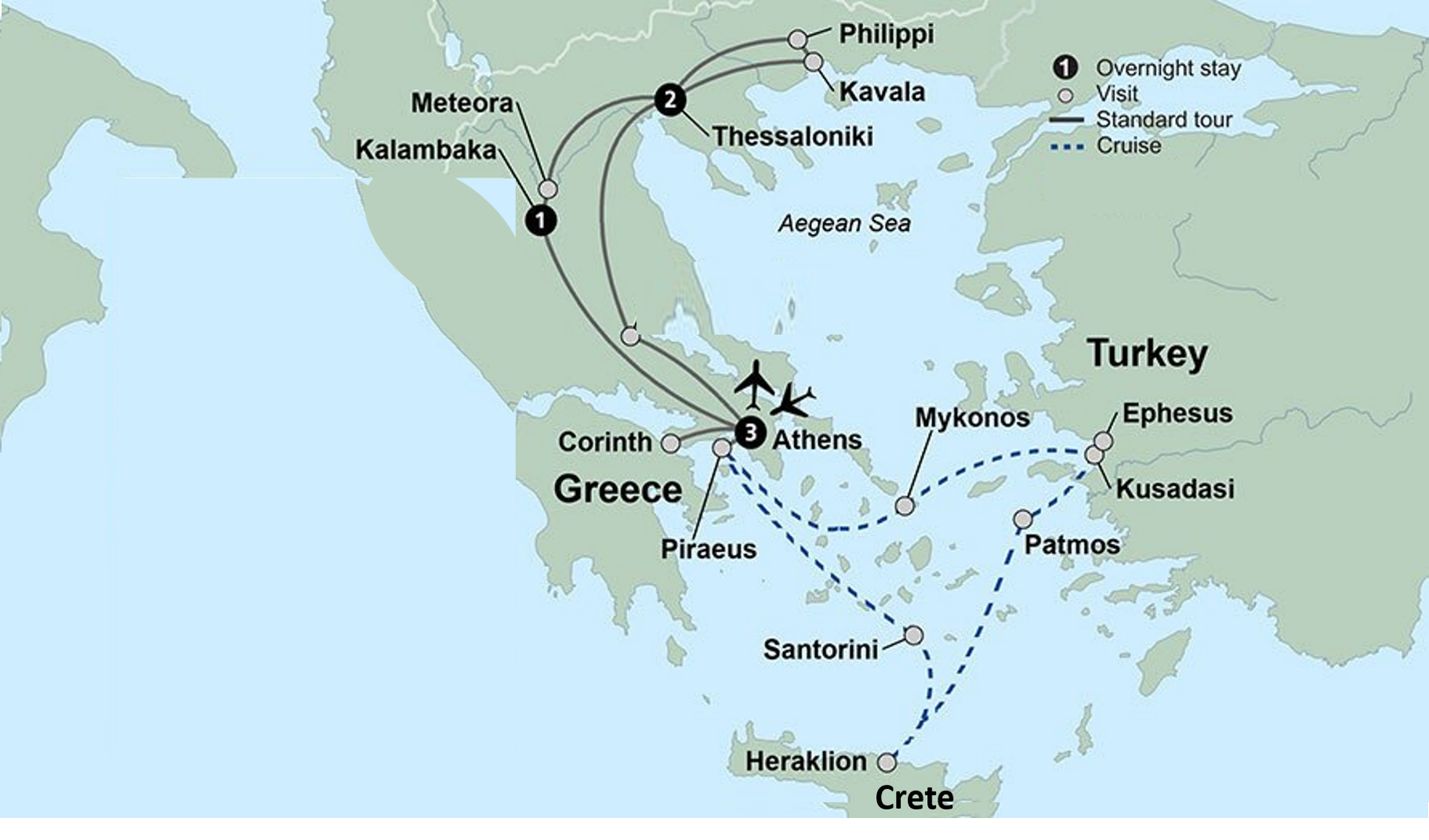 This is paragraph text. Double click here to edit and add your own text.
NEWSFLASH:
It's THIS SUNDAY, October 9 - 2:30-4:00 PM - You are invited to a Tour Info meeting! @ Jerome Christian Church Cafe' - 9535 E 100 S, Greentown, IN
Come visit with those who have traveled with us, others interested in our Biblical trip
"In The Footsteps of Paul", and still others already enrolled for April 17-26, 2023.
Light refreshments, giveaways and exciting new updates. Come for a fun meeting!